The Serpent and the Eagle
Watch Fortress Erioch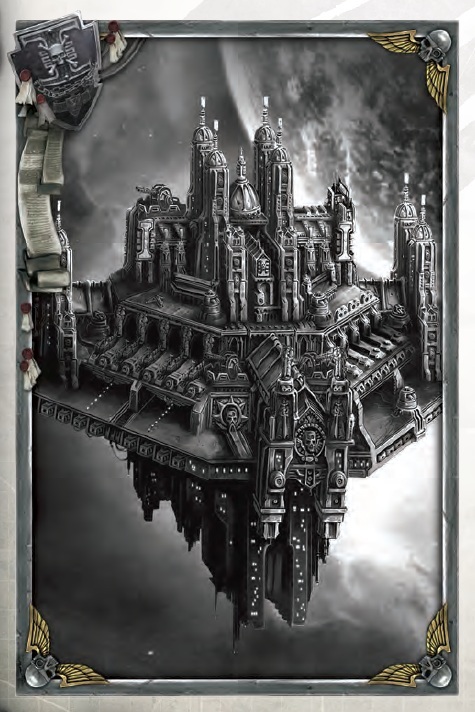 Watch Fortress Erioch is a notable Watch Fortress of the xenos-hunting Deathwatch based within the Jericho Reach of the Segmentum Ultima. Within Erioch the Deathwatch's Kill-teams train and prepare for coming missions.
Watch Fortress Erioch combines the functions of a command centre, keep, archive, garrison and more. The Watch Commander often coordinates the monitoring of a hundred different threats; or his attentions might be focused exclusively on one single, overriding concern towards which all of his and his Battle-Brothers' efforts are turned. The commander is assisted in his duties by a cadre of specialists, some of whom are Space Marines, such as Techmarines, Apothecaries and the like, while many more are normal humans who are the equivalent of Chapter Serfs who have been assigned to the Deathwatch by the Inquisition's Ordo Xenos.
Erioch is also home to all manner of Astartes training facilities. In vast domes, unique environments can be recreated in which the Battle-Brothers can perfect their battle drill and rehearse their missions. Some of these domes have been stocked with life forms, such as Death World flora and fauna, in order to create the most realistic training conditions possible. It has even been known for captured aliens to be set loose in the training domes, to be hunted down by the Kill-teams in deadly mission simulation exercises.
At the heart of Erioch is to be found a sealed vault, known as The Omega Vault, which contains the most sensitive and valuable of assets available to the Inquisition in the Jericho Reach — and perhaps the galaxy.